Check out what Mike McGill had to say in the Zine that was released for the NIXON x Bones Brigade collaboration in 2017, by Sean Mortimer & J Grant Brittain.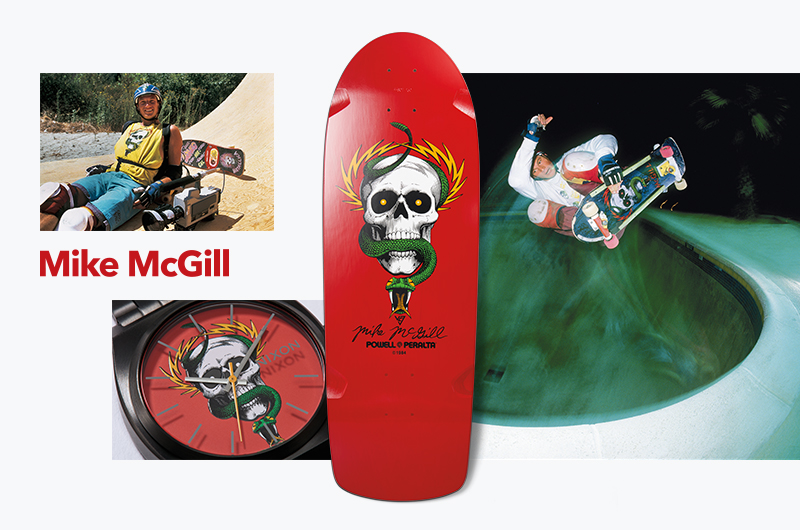 MIKE MCGILL ON BONES BRIGADE GRAPHICS NIXON ZINE
"My first graphic was a jet, but I told George and Stacy that I wanted a cool skull graphic like Ray Bones' skull and sword so Court came up with some skull ideas. The first one had horns on its head like a demon. I said I couldn't have any devil horns on my skull. It was crazy! But Court was open to suggestions because he knew it was my board that would represent me. So Court asked me what elements I had around my home in Florida. I told him we had plenty of lightening and snakes and that he started melding those things. In Florida, the rattlesnakes are all green, not brown.
Once we got beyond the ones where the snake was coming out of the eyeball and some of the skulls were cracked or really ugly, it was awesome. There were always people who had a problem with skulls, but if you think the one I have is satanic, they should look at the original idea with the horns!
ON COURT:
He had that talent that you didn't see in a lot of other skateboard artists at the time. How did he make the graphics looks so good and not cartoony? They don't seem complicated, but man, at the time, they were. They were masterpieces.
HIGHEST MONTHLY ROYALTY CHECK BASED ON $1 PER BOARD:
My board sales skyrocketed once that graphic came out. I had one check around $20,000. All of our boards were selling. If George had more wood and could produce more boards then we probably would have sold more. I think part of his business strategy was to have shops keep asking for more and maybe that worked because we were pretty consistent there for a long time.
FAV GRAPHICS:
It's really hard to pick … I like them all."
Part 6 of 7 featuring Lance Mountain, going up Friday, February 14th.