'Blacklight' fluorescent ink inspired series.
Fans can start pre-booking their orders on May 4, 2023 with their favorite skateboard shopkeeper.
Each deck will include a sequentially numbered postcard.
Available everywhere to the public, June 27, 2023 at 12:01am PST.
Limited amounts for Steve, Tommy, Mike, Lance and Rodney of up to 2,500 for each, and up to 5,000 for Tony offered.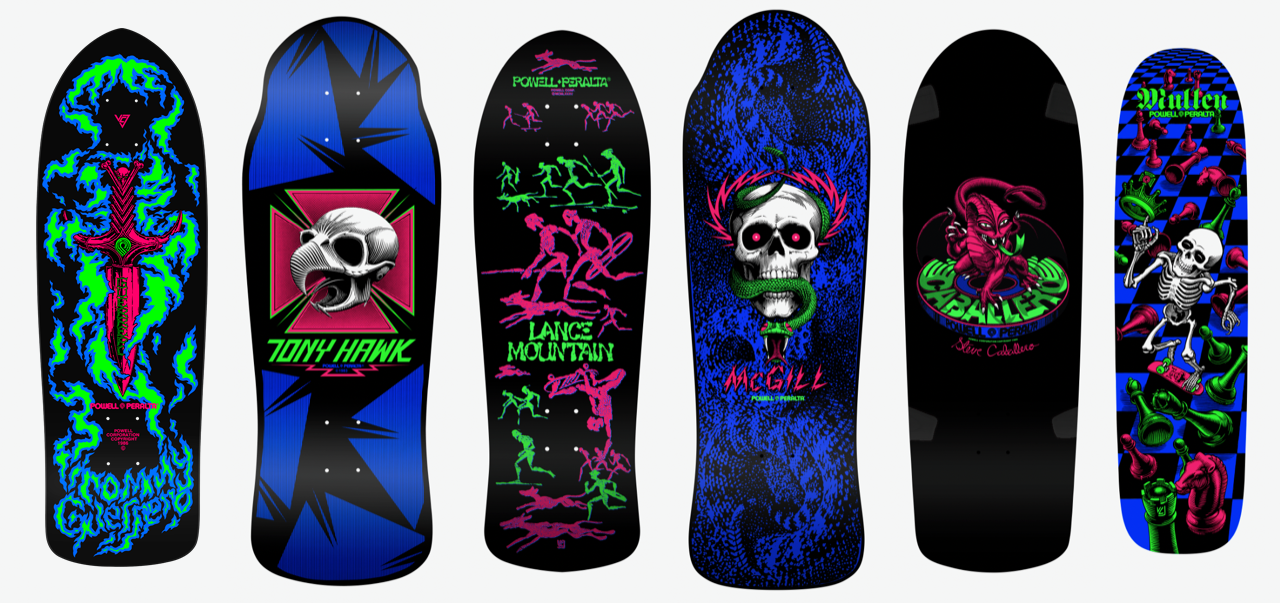 Steve Caballero
| | |
| --- | --- |
| Shape | 258 |
| Mold name | SP0 |
| Nose length | 1.63 |
| Wheel base | 16.25 |
| Tail length | 6.25 |
| Length | 29.13 |
| Width | 10.00 |


Tommy Guerrero
| | |
| --- | --- |
| Shape # | 233 |
| Mold name | SP3 |
| Nose length | 3.84 |
| Wheel base | 15.38 |
| Tail length | 6.05 |
| Length | 30.27 |
| Width | 9.75 |
Tony Hawk
| | |
| --- | --- |
| Shape # | 232 |
| Mold name | SP3 |
| Nose length | 4.25 |
| Wheel base | 15.00 |
| Tail length | 6.00 |
| Length | 30.25 |
| Width | 10.38 |


Mike McGill
| | |
| --- | --- |
| Shape # | 277 |
| Mold name | SP3 |
| Nose length | 3.75 |
| Wheel base | 15.30 |
| Tail length | 6.33 |
| Length | 30.38 |
| Width | 9.90 |
Lance Mountain
| | |
| --- | --- |
| Shape # | 156 |
| Mold name | SP0 |
| Nose length | 3.84 |
| Wheel base | 15.38 |
| Tail length | 6.45 |
| Length | 30.67 |
| Width | 9.90 |


Rodney Mullen
| | |
| --- | --- |
| Shape # | 202 |
| Mold name | FK1 |
| Nose length | 4.625 |
| Wheel base | 12.625 |
| Tail length | 5.375 |
| Length | 27.625 |
| Width | 7.40 |